French Provincial Vintage Furniture 3 Seats Sofa with Arm in Natural Oak
Product Code: KFD007-25
Pre-Order
Availability: Coming Soon. Please call to confirm.
Product Description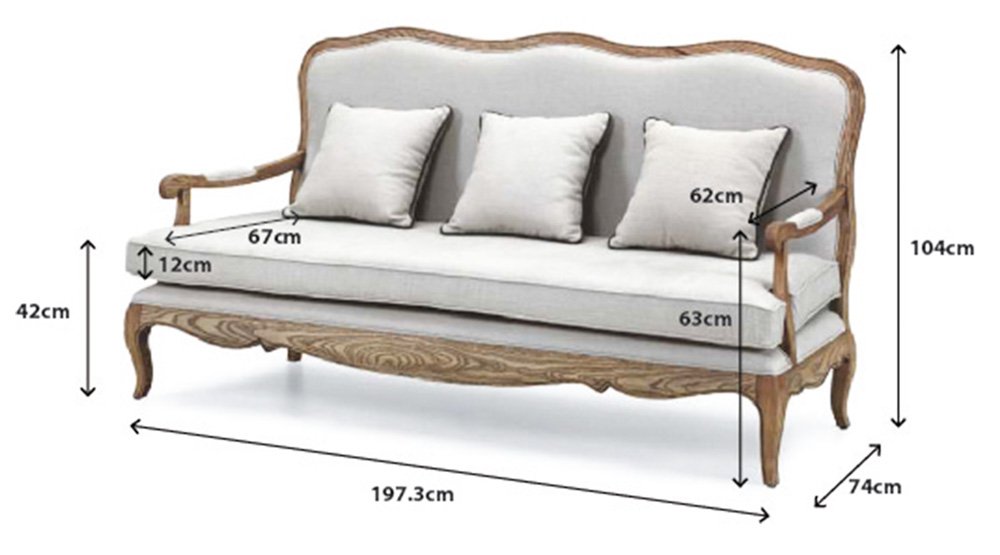 * does not come with the 2 square display cushions



Enhance the classic-factor to your room with the French Provincial Natural Oak Single Sofa Arm Chair Vintage Furniture.
With classic French sophistication, the La Joie Provincial Home Living Signature Collection will transform your room into a sanctuary of relaxation and harmony atmosphere. Its timeless furnishings will transcend trends, creating an enduring sense of luxuriousness and warmth.
La Joie Living French Provincial Furniture collection includes Classic Dressers, Bookcases, TV Units, Desks, Writing Bureaus, Dining Settings, Occasional Chairs, Chesterfield Sofas and a Bedroom Collection that will look stunning in your newly built or renovated home. It suits wide range of designs be that Modern, Contemporary, Edwardian, Georgian, Federation or Victorian, French or English.
As a brand, La Joie Living lives and breathes product, creating dynamic and trend-setting home accents and furniture.
La Joie Living is bringing the best of French Provincial Furniture to Australia at the best prices!
Features:
- 3 Seats Sofa with arms
- Beautifully special handcrafted design engrave along bottom line of the chair and legs
- manufactured from high quality hardwood American Oak frame and inserts
- 100% linen fabric covering.
- add style to your existing lounge or living room
- fill a cosy corner of your room
Overall Item Dimension: 197.3cm Wide x 74cm Deep x 104cm High

Seat Dimension: 198cm Wide x 67cm Deep x 30cm High

Detail Dimensions shown in the picture in the gallery

*Some of photos are just for demonstration only, please contact us for more information.
Material: Natural Oak

Color: Natural Oak
Box Details
Carton 1 202 cm x 79 cm x 109 cm - 75kg (Approx..)
From our customers
This sofa was the perfect buy, looks good and is very comfortable