Hamptons Halifax Side Cross 3 Drawers Console Hall Table with Side Pull Out - Black
Product Code: ALT-KK0734G3B
Pre-Order
Availability: Coming Soon. Please call to confirm.
Product Description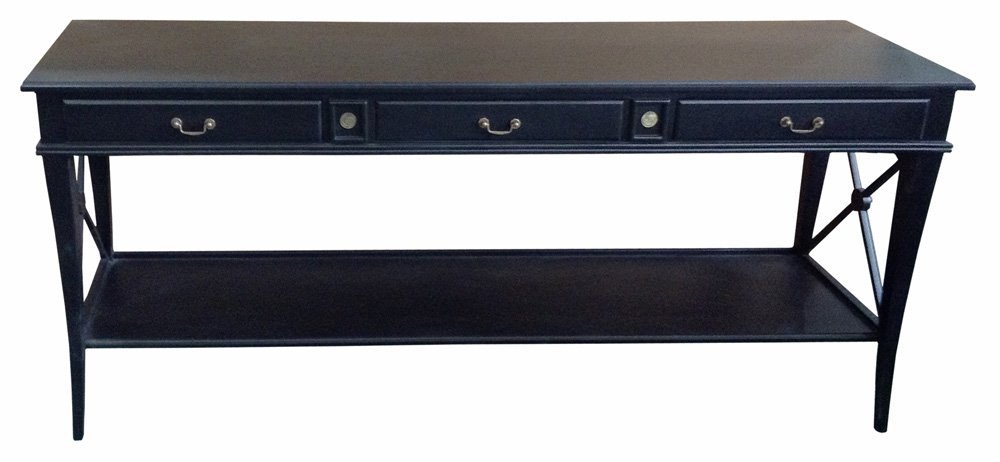 This French Provincial contemporary design side table brings style and sophistication to any space or room to your home. La Joie Living Signature Lucid Collection brings the detail back into your space.
With mix of contemporary and classic French sophistication, the La Joie Provincial Home Living Signature Collection will transform your room into a sanctuary of relaxation and harmony bedroom. Its timeless furnishings will transcend trends, creating an enduring sense of luxuriousness and warmth.
As a brand, La Joie Living lives and breathes product, it's timeless style creating dynamic and trend-setting home accents and furniture.
La Joie Living is bringing the best of French Provincial Furniture to Australia at the best prices!
Collection: La Joie Living Signature Lucid Collection

Features:
- 3 drawers
- 1 retractable tray on each side of the table
- Cross design on both sides
- Spacious magazine / organizer tray
- Brass finished handles on drawers
- Smooth painted defines the character
- Brings elegance to any room of your home.
- Boasts simplicity and versatility.
- This range includes Classic Dressers, Bookcases, TV Units, Desks, Writing Bureaus, Dining Settings, Occasional Chairs, Chesterfield Sofas and a Bedroom Collection that will look stunning in your newly built or renovated home, be that Modern, Contemporary, Edwardian, Georgian, Federation or Victorian, French or English .
Material: Poplar
Color Finish: Villa Black
Overall Item Dimension: 178cm Wide x 44cm Deep x 76cm High - 36kg
Internal Drawer Dimension: 44.5cm Wide x 33.5cm Deep x 5cm High
Side Tray Dimension: 22cm Wide x 29.5cm Deep x 2cm Thick
Magazine / Organizer Tray Overall Dimension: 172cm Wide x 35cm Deep x 2.5cm Thick


Carton 1: 183cm Wide x 47cm Deep x 79cm High - 43kg
Box Details
Carton 1 185 cm x 49 cm x 79 cm = 43kg (Black) (approx.)
From our customers
There are no testimonials for this product. Could yours be the first?