Tools Storage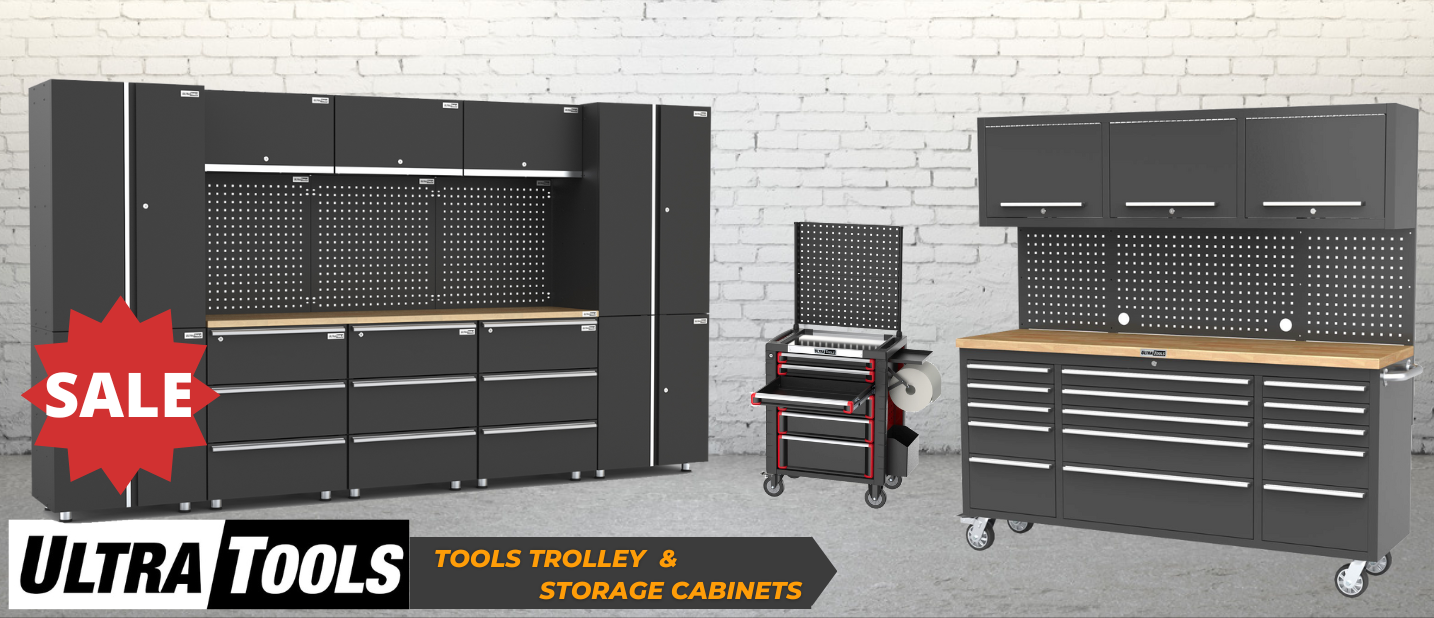 When it comes to tool storage, Wholesales Direct offers an unrivalled variety that covers everything you could want in your home tool shed. From simple tool drawers to complex garage workbench and storage solutions, these products are designed with amateur and professional craftspeople in mind. Our tool storage cabinets blend practicality and durability to deliver an unparalleled user experience. Take a look at the complete collection and get your tools organised today.
Tool storage cabinets for tools of all sizes
Are you just starting to build your tool collection, or has it finally gotten to the point where you need to invest in some proper equipment to keep tools neat and tidy? No matter what, our collection of tool storage options has you covered.
Tool chests are a great way to keep hand tools organised and always within reach, as are the Wholesales Direct collection of tool drawers. These are made with functionality in mind - featuring cushioned liners and locking mechanisms to keep tools protected and in good shape. We also stock a range of aluminum tool boxes if you need to access your tools on the move.
Tool trolley cabinets are another great tool storage solution, especially as they allow easy movement around your workspace or transportation to a work site. The tool trolley cabinet allows your tools to be mobile: load everything you need into the tool trolley cabinet and save yourself time running back and forth between your work site and the tools that you need.
If you want to maximise the space in your toolshed, garage storage cupboards and tool cabinets are versatile options. The cabinets can store tools, spare parts, other equipment within easy reach and keep things out of the way, reducing clutter and fitting into the gaps in your shed area or garage.
Find the perfect garage tool storage for your equipment
Create a more organised space for yourself by investing in a garage workbench and tool storage system. Since you can easily locate the tools you need, you can spend more time focusing on your important projects. Our tool chests and cabinets also help keep your tools safe from theft or the reach of small children who sometimes access your workspace. All our tool storage systems are made from high-quality, durable materials. You can count on these storage solutions to last, providing you with an organised workspace for years to come!
Shop a variety of tool chests, cabinets and drawers online today
Trust the collection of tool storage available at Wholesales Direct! Whether you're looking for small tool chests or larger garage storage cabinets and workspace combinations, we're here to help. We stock a huge range of tool storage options, including roof pods and roof racks, to allow you to conveniently transport your equipment or other accessories from job to job. Upgrade your tool storage experience with Wholesales Direct and experience the difference quality makes.