Garden Shed 4.3m x 2.6m x 2.3m Double Barn Door + PA Door Extra Frame - 3 Frames Design
Product Code: ED2001
Available
Installation Available. Please call 1800 793 783 for price and details.
Product Description
3 Frames Design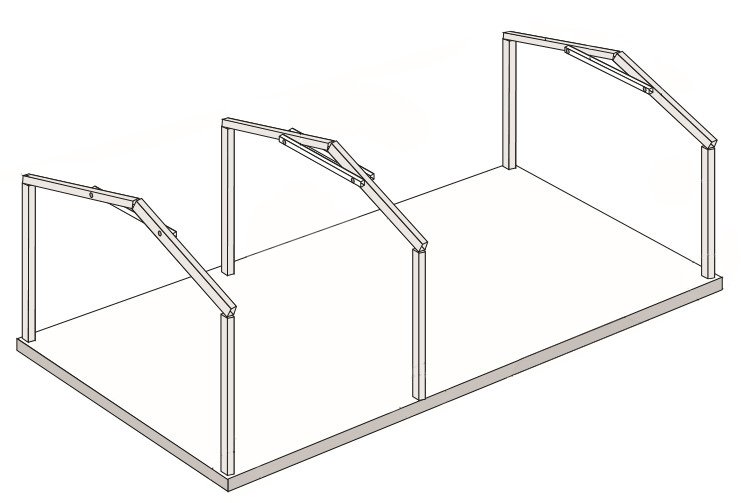 Features
Design for Maximum Strength
Manufactured from low maintenance ribbed steel sheeting
Easy Assembly
Specifications
Shed Size: 4.3m (Wide) x 2.59m (Deep) x 2.32m (High)

Roof Size: 4.3m (Wide) x 2.8m (Deep) x 2.32m (High)

Extra Height: 2.32m
Door Height: 2m

Extra Frames - 3 Frames Design
Double Door Size: 1660mm Wide x 1950mm High

Front Hinged door: 830mm x 1950mm



Step by Step Assembly instructions with drawing Provided.
1. Checking the parts and reading the instructions
2. Foundation
3. Check how panels are joined
4. Building the rear wall
5. Building the side walls
6. Building the front walls
7. Fixing the doors to the front panel assembly
8. Building the roof
9. Standing up the walls in position on foundation
10. Adding the roof to the shed
11. Last steps including anchoring the shed to the foundation


*Some of the photos are for demonstration only. Please contact us for more information.

*Colour difference may appear on different monitors / device. Final product colour may appear slightly differences.
We also offer Pick up from our Depot in most of the major city with a very minimum cost, and we guarantee lowest price for Home Delivery Australia Wide (We delivered by Road Express Service)
Foundation kit (Optional)

All of our sheds are kit-sets and come with assembly instructions. Our customer service team's shed experts are also on hand via our toll free line, to help if you need it.
Common Questions
Deliver to my home?
Yes we can! And if you're in Victoria, you might qualify for same day delivery! Call us to find out.


Easy to set up?
Yes. All our sheds come with straightforward instructions. If you are unsure, please contact us or your local handyman


How long will it take?
About a day for small kits or two days for large kit garages.


What do I need?
A nice day. Two people. An electric screwdriver and drill bits.


What size for the base/slab?
We suggest concrete slabs to be at least 100mm larger on each side. If in doubt, please feel free to give us a ring.
Box Details
Carton 1 202cm Wide x 91cm Deep x 16cm High - 91kg
Carton 2 141cm Wide x 91cm Deep x 6cm High - 45kg
Carton 3 220cm Wide x 15cm Deep x 13cm High - 41kg
From our customers
Good shed, set up was pretty easy.
I found using the pictures instead of the wording helped reading the instructions.
I was also told when buying if i did need any assisting when setting up i can always give the office a call and the shed team will help out, that put my mind at ease but it did not come down to me calling.

I highly recommend this shed, it has great frames and it sturdy and strong.